Finally the Chernobyl hike starts! Well, this is actually the 2nd day of the Ukraine trip. But it's the 6th article in this series. Probably the one, you have been waiting for. Our guide picked us up from the hostel at 10 PM. Then we made a fuel stop and drove to our drop-off point near the border of the exclusion zone. On the last few kilometers we started to see more and more apparently abandoned buildings in the small villages.
I am intentionally unspecific on details like time of day, distances and time spans. Furthermore I removed metadata from media, that might disclose details on the route taken. This is to protect the guide and other stalkers.
Getting wet feet
The plan for that night was to cover the first half of the hike to Pripyat and find a dry and comfy sleeping spot. But halfway along the way was an obstacle we had to overcome: the river Uzh. This meant, we were getting wet feet.
With temperatures only slightly above zero – maybe 5°C, I was really enjoying this refreshment. I can't say the same for my 3 companions. Our guide – of course – didn't complain either. He traversed the river first to find the best way through it and prepared picnic for everybody. We had dark bread (similar to our Westphalian "Pumpernickel"), pork lard and vodka and it was awesome. Having reached the other side, the guide instructed us, to only use red light – if needed. It's interesting how perception changes, if you reduce eyesight to a very narrow part of the light spectrum.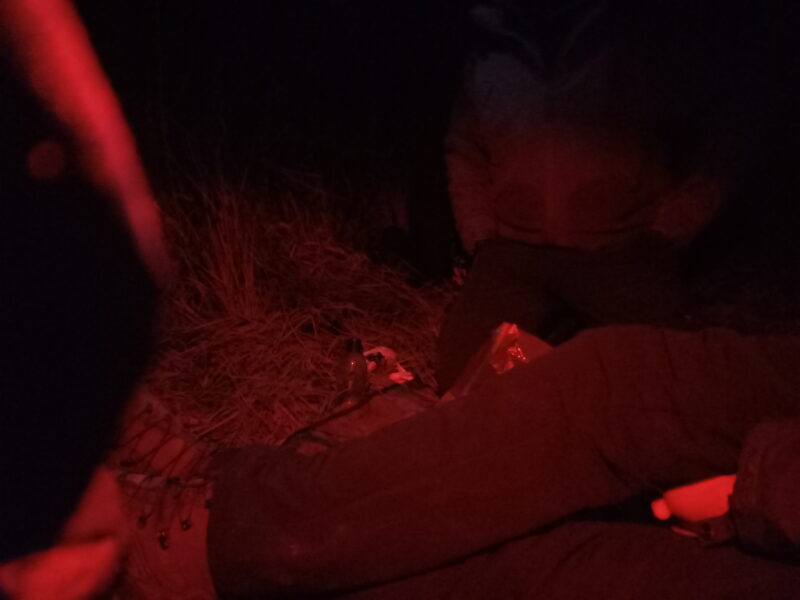 Not getting a wet backpack is recommended. But the 2 most important things we had to watch out during this stunt, were of course: not to get wet shoes and under no circumstances get sand into the boots or socks.
Hike to a sleeping spot
We continued the 2nd part of the hike in moonlight which was not only very beautiful but had the advantage, that we didn't need any light. So we became literally ghosts in the night. I can't even describe in words, how magically quiet and calm the zone was. During a short break I just lay down on my back and looked up. Never before in my life have I seen such a clear starry sky. The stars didn't even twinkle a bit. There was absolutely no light pollution. It was magical.
Unfortunately I didn't seize the moment to pull out camera and tripod and make some sky photos. I thought, there would come better chances, but I was wrong.
After some hours of walking, we apparently reached a spot with a few houses. We chose one, where we could get onto the hayloft. We figured, we wouldn't get disturbed by wildlife at night up there. But honestly I was that tired – I would not have noticed anyway.
While the others were preparing for a cold night with multiple layers of clothes, I crawled into my sleeping, just in pants and t-shirt. But it became pretty warm after a while, so I undressed the pants after a while, but kept them in the sleeping bag. So I didn't have to get back into them in the morning when they are ice cold. After plugging in the phone for charging, I was nearly already asleep – and snoring.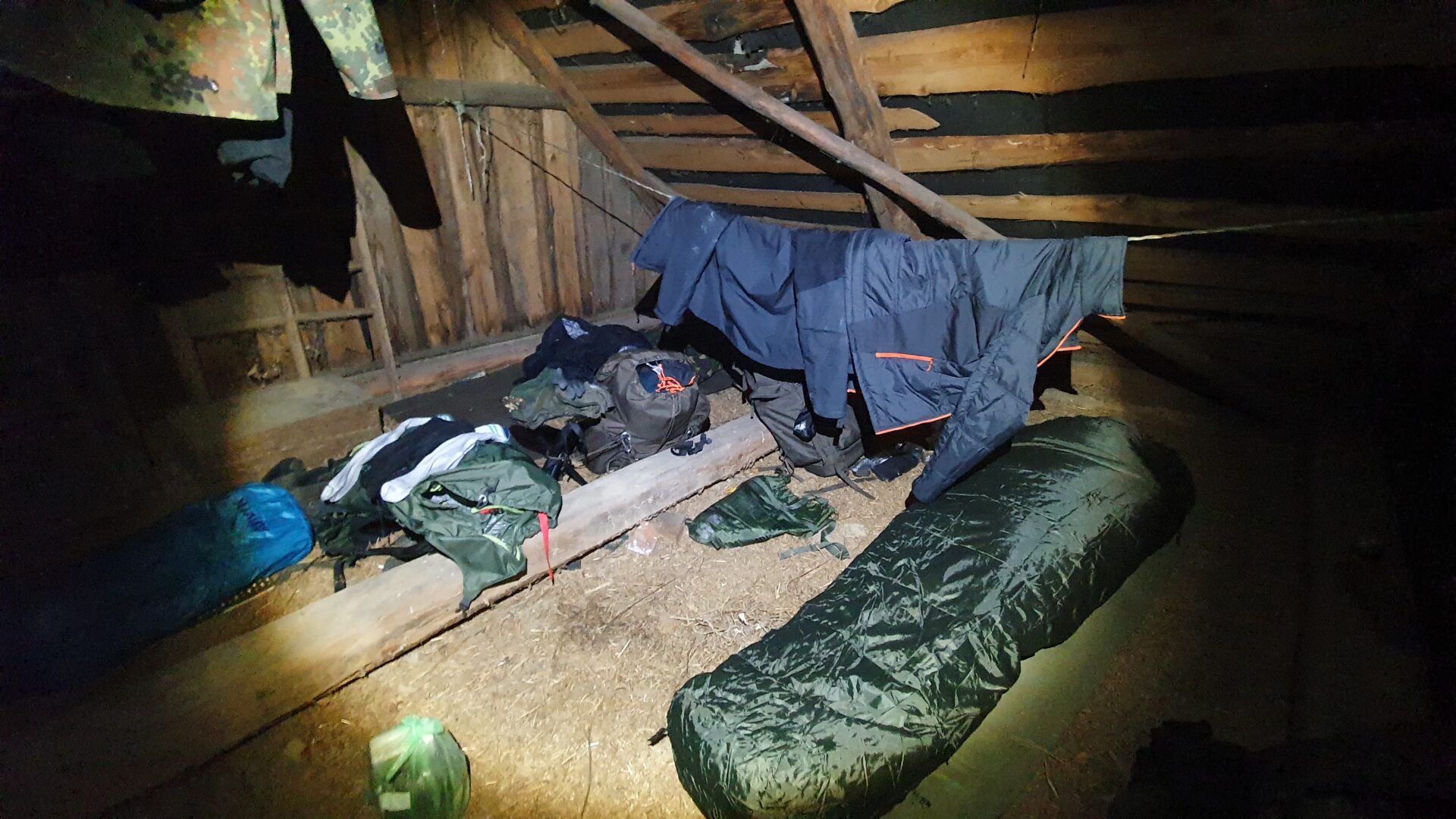 If you missed it, read the last article with the 2nd part of the underground tour. Be sure not to miss the next part of this series, where we start into the day with a great breakfast and continue our hike to Pripyat.