Now I was sitting there, having committed to a multi-day hike through the Chernobyl exclusion zone. Despite having never been hiking before. I did do prolonged 20+ km walks in the past though. So I figured my feet would handle the trip – despite having flatfeet. Plus the chronic back pain that grounded me twice in 2019 for several weeks each. So what could possibly go wrong?
Well actually, anything could screw up the trip at this moment – or possibly even put people's health or life at risk, so we had to carefully plan ahead to narrow down the variables. Luckily Koko already had some survival skills and the 2 other guys already had hiking experience.
I packed my bag and in it I put a …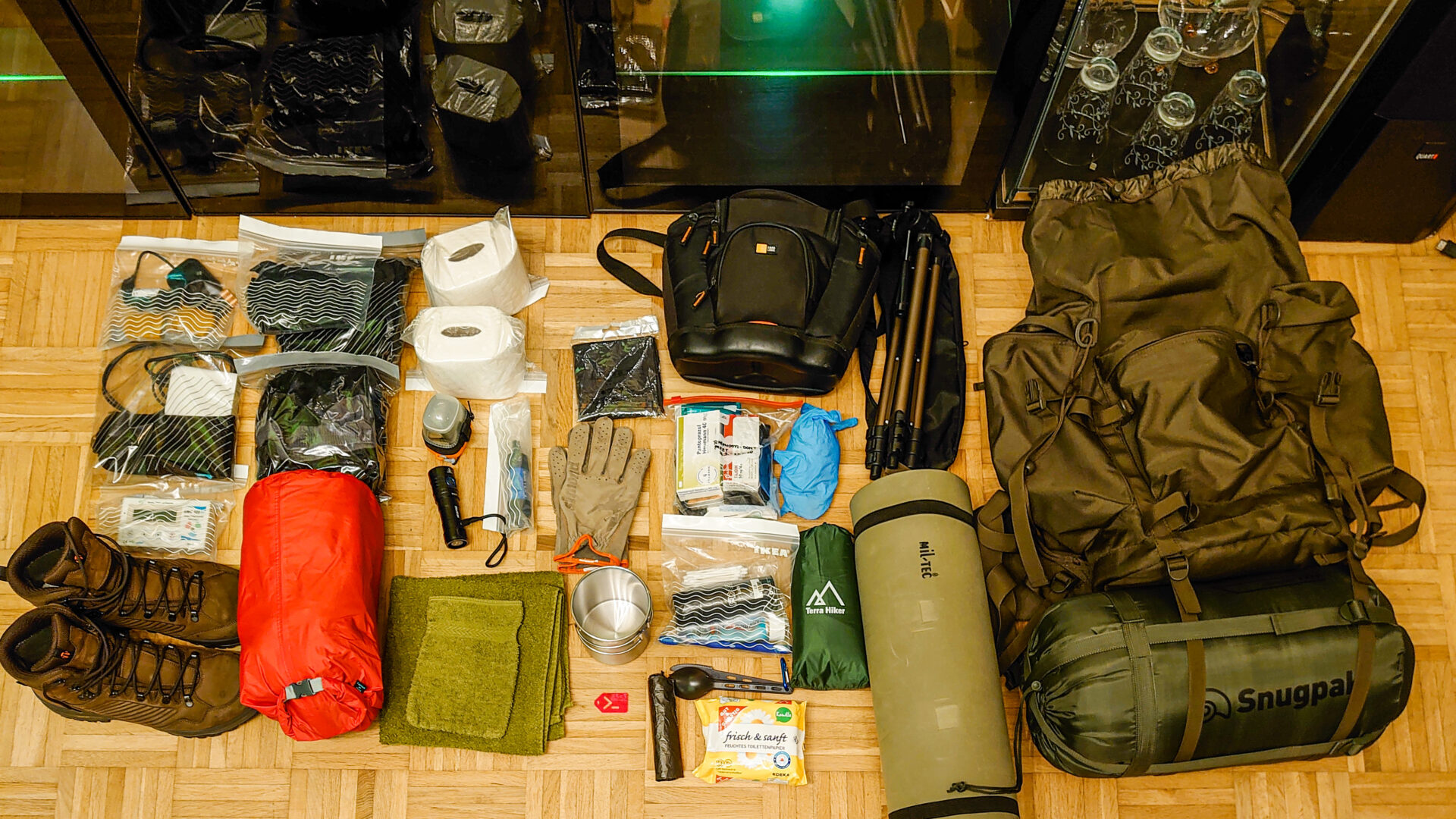 Backpack: ESSL RU5026 olive 40 Liter
Sleeping Bag: Snugpak Sleeper Lite olive (-15°C transitional)
Miltec isomat olive
Terra Hiker rain poncho olive
450g camera tripod (flimsy, but lightweight and cheap)
medical gloves
camera bag (cam, objectives, remote control, memory cards, filters, flashlight, batteries, etc.)
survival kit (iodine tabs, disinfectant iodine, painkillers, FFP2 masks, vitamins, magnesium, blister and normal plasters, hand sanitizer)
minimal hygiene kit (toothbrush, -paste, deodorant, q-tips)
plastic spoon, fork and knife
wet wipes
black plastic bags (for keeping sleeping bag dry, when hung outside)
loop scarf
leather gloves
Mil-Tec stainless steel cup 800 ml
toilet paper (reduced to 1 roll)
Headlamp Petzl Tactikka Camo with rechargeable battery and case (red and white light)
1200 Lumen hand lamp with 5000 mAh rechargeable battery (red, white, UV)
ceramic water filter (as a tertiary water backup)
small towel
socks (thin ones, thick ones and women's nylon socks for blister prevention), underpants, clothes (all packed into single waterproof bags)
charging cables, adapters, replacement batteries: everything you need to get power from the power banks into your batteries)
2 power banks 28Wh + 14Wh
geiger counter / data logger / dosimeter: GQ GMC 320plus
Hiking boots
Quechua thermo pants
Quechua 2-layered jacket (so I can put the warm inlay away when I'm heated up)
gas cooker, proper knife, picnic blanket (guide would bring this)
lessons learned
In hindsight I can say that I took some items I absolutely didn't need. Online information said, that med gloves were required when using the Metro, buses, shops. But nobody gave a single Fuck. I went with using hand sanitizer after having touched potential infection sources.
And I totally overestimated my power requirements. I packed several rechargeable batteries and normal spare batteries for every device + cables and adapters to be able to recharge everything from the power banks. So I figured that I only really need the power banks for the phone and I was right. But since there is only weak network coverage in the zone, I had it switched to airplane mode nearly all the time which dramatically reduced consumption. The small and lighter one would have been enough. Same applies for light. The head lamp alone would have wonderfully done the job – no need for the hand lamp.
The cloths bag included an additional fleece pullover I never used. I am usually rather too warm than too cold, so this was dead weight. I literally did crawl into the sleeping bag only wearing a shirt and the pants – and even those I did undress inside when it became warm. This also applied for sleeping under the open sky (temperatures around 0°C).
On the other hand I was absolutely happy about having packed a fresh pair of socks and underwear for every day. And a way too big pack of wet wipes for at least a bit of daily hygiene.
Food and water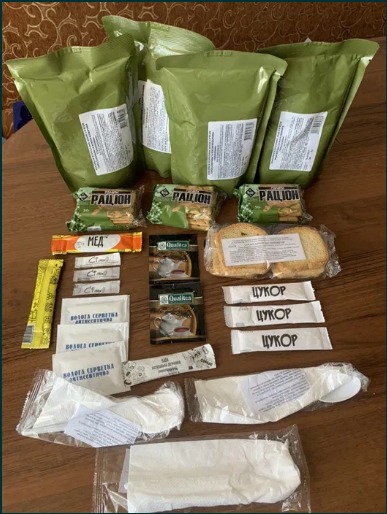 With all that stuff the backpack was roughly 3/4 filled. With the sleeping bag strapped under the backpack and the isomat on top. That's enough to stuff 1 MRE and 3 bottles of water into it + various kinds of sweets and other "tasty" stuff for comfort – like cheese, sausage and bread.
I think I took 3 0.75l bottles of water to distribute their weight evenly. This amount of water was meant to be sufficient for hiking one-way into the zone. We were supposed to get a food and water care pack delivered directly to Pripyat for use there and the hike back. In case of an emergency water shortage, we could use the water filter as a backup.
We bought all consumables locally in Ukraine.
Traveling undercover
Now that everything was prepared, we could book the flights, airport car parking slot, a hostel room for 1 night and the travel insurance (English version with explicit mention of COVID coverage).
Since we weren't eager to explain what we were up to in Ukraine in November equipped with full hiking gear to a border officer, we stuffed everything into suitcases and traveled in civil clothes.
If you missed it, read the last article on how all this happened and why we are doing such a stupid and dangerous thing. Be sure not to miss the next part of this series, where you will finally see pictures taken in Ukraine.